Sales Ledger – Daybook Report
Purpose:
Print documents and reports only when absolutely necessary – most documents can be reproduced from the system immediately for current year whenever you need them and from archived backups relatively quickly and easily. H.M.R.C. no longer expect companies to keep paper copies if they have an accounts system that can reprint. It is usual to print the listing as part of Month End procedures.
Processing:
Either: On the main menu click Daybooks > Sales > Daybook Listing, or:
Click Report Control button > Daybooks Page > Sales Daybook Listing button – see Control Buttons.
Select required options on form.
Click OK to select output – see Printing Reports
Click OK to print/display/export to selected file type.
Close form
Filing:
If required file copy of Daybook Listing with copy invoices or .pdf copies.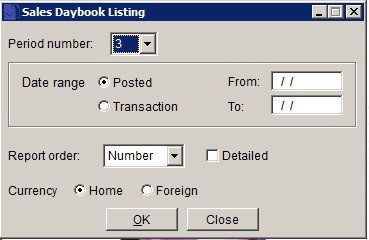 Period Number: Select Period number or YTD to print.
Report Order: Select Document Number, Document Date or Ledger Account order.
Posted Date Range: Either: Manual entry formatted as DD/MM/YY. Type over the parts of the date you wish to change – the system will skip over the "/" part itself. If the date you enter is invalid; the cursor will return to the start of the date and await a valid entry, or; click on the field to highlight data – white on a blue background – then Right Click to open the Calendar Menu – see Dates and Calendar.
Warning message box is displayed if entered date is more than 6 months older than Default Transaction (System) Date
Select transaction date range start date – if blank will print all invoices and credit notes in selected transaction period.
Click 'OK' to print or 'Close' to not print.