Post Sales Ledger Receipts
Purpose:
To post bank and cash receipts and allocate against invoices and credit notes.
Preparation:
Obtain remittance advices and paying in book.
Processing:
Click on Customer > Post Receipts.
Opens the Select Customer form – see Edit Customer to view form.
Select the customer from the dropdown box or the cloud link list.
The Customer Receipt form opens –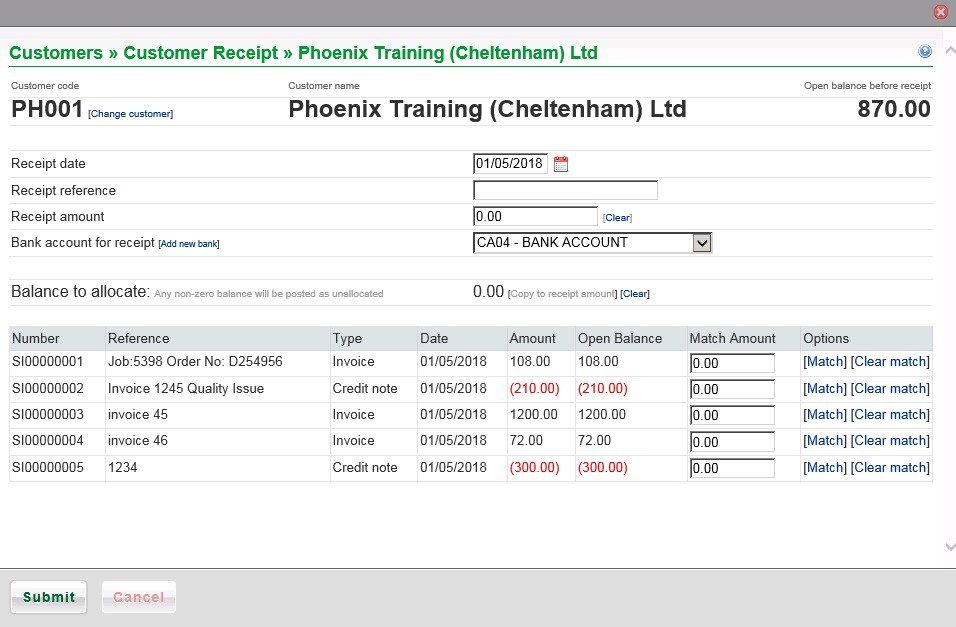 Enter Receipt date – see Datepicker.
Enter reference – counter credit No, reference from bank statement or anything that makes the Bank Reconciliation easier.
Enter Receipt amount and select Bank account.
Match invoices and credit notes cleared by receipt – click on match on each relevant line – use Clear match if you make an error. Enter the amount in the match amount column if the invoice is short paid.
Keeping allocations up to date is crucial if using VAT cash accounting.
Continue until Balance to allocate is nil or a figure that can't be allocated – e.g an overpayment. If account has no transactions then the total amount is unallocated – i.e. no matches are made and all that needs to be done is to click on Submit.
When matching done click on Submit to post cash to the ledgers.