Costing – Enter Job Supplier Invoices
Purpose:
Use to post supplier invoices relating to Jobs.
Preparation:
Processing:
On the main menu click Daybooks > Purchase Daybook > Post Invoices, or;
On the main menu View > Configure Toolbar > open form – see Configure Toolbar.
Check the box to the left of Post Purchase Invoices.
Click Apply Button to display the Control Button –
Click the Control Button to open form – see Purchase Daybook Post Invoice form – below.
Either: Select required supplier, or type in a new account number then click Yes on the message box to create a new account – see
Add Supplier Account form – remember to enter the supplier's full details as soon as possible – see Create & Edit Supplier Accounts.
Post the invoice net of VAT amount to individual nominal ledger codes line by line using the mouse or tab keys to navigate along lines and return to accept the entries and move to the next line.
Click OK to accept and update records.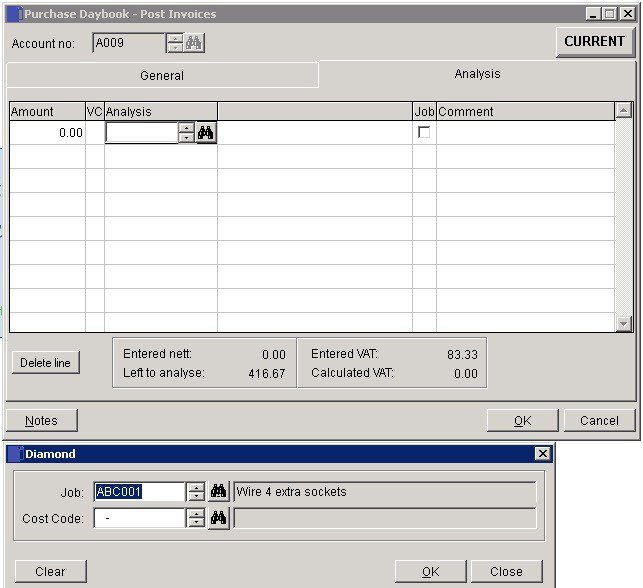 Amount: Net amounts to to be posted to nominal ledger to any number of codes. The aggregate total and the balance to analyse are shown at the bottom of the form.
VC: The VAT Code applicable to the net amount entered.
Comment: to appear in the nominal ledger against that line posting.
Entered VAT and Calculated VAT must match and Left to analyse must be nil. You can adjust the figures until this is so.
Click OK to make postings to Purchase and Nominal ledgers and clear – Cancel to abandon.
To Post Job Costs click on Check box to open form – enter job details and click on OK.