Purchase Ledger – Nominal Analysis Report
Purpose:
Useful as a part of Month End and Year End routines to trace purchase ledger postings to nominal accounts.
Processing:
Either: On the main menu click Ledgers > Purchase > Reports > Nominal Analysis, or Report control button – Purchase Page – Nominal Analysis.
Select parameters – see Purchase Invoice Nominal Analysis form below.
Select printer – see Printing reports.
Click OK to print/display/export to selected file type.
Close form.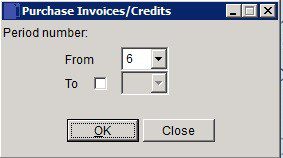 Select range of periods – if only one, select from drop down – if more than one tick checkbox and select from and to periods
Click OK to run report or Cancel to close without printing.