Stock – Amend 'On Order' Quantity
Purpose:
When necessary – if the 'on order' quantity needs to be amended – if under or over-delivered and order closed.
Processing:
On the main menu click Stock > Amend on Order to open form.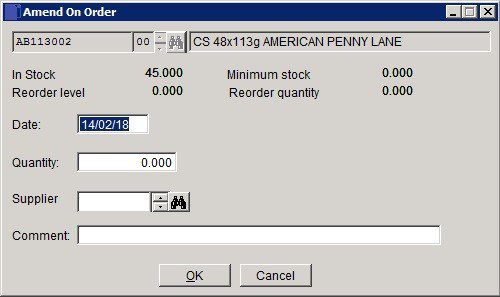 Date: Either: manual entry formatted as DD/MM/YY. Type over the parts of the date you wish to change – the system will skip over the "/" part itself. If the date you enter is invalid; the cursor will return to the start of the date and await a valid entry, or;
click on the field to highlight data – white on a blue background – then right click to open the Calendar Menu – see Dates and Calendar.
Quantity: Enter value to increase stock on order or negative to reduce stock on order quantity.
Click OK to save, or Cancel to abandon.