Stock – Issues To Assemblies (Manufactures)
Purpose:
Issues (Manufactures)are used to allocate individual products and/or sub assemblies to assemblies to be manufactured.
Remember that if using more than one sub assembly, start allocating product to the lowest level sub assembly and work up. See Create & Edit Assemblies for more information.
Processing:
On the main menu click Stock > Movements > Manufacture to open form.
Complete the form – see Manufacture Assemblies form – below.
Click OK to update Records, and;
Print transaction as required – see Printing Reports.
Close form.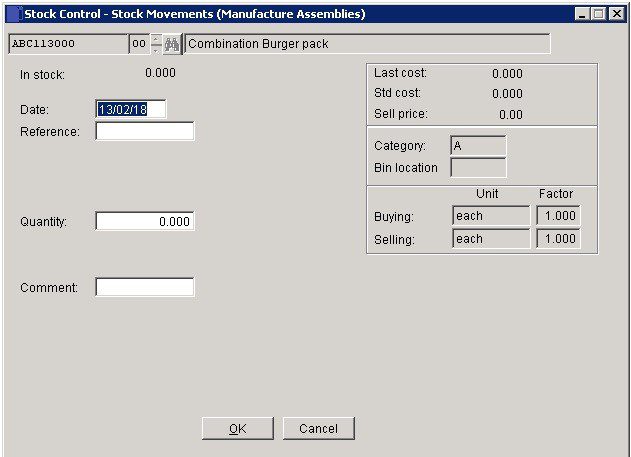 Date: Either: Manual entry formatted as DD/MM/YY. Type over the parts of the date you wish to change – the system will skip over the "/" part itself. If the date you enter is invalid; the cursor will return to the start of the date and await a valid entry, or;
click on the field to highlight data – white on a blue background – then right click to open the Calendar Menu – see Dates and Calendar.
Reference: Mandatory. Enter a unique reference to identify this transaction.
OK: Display Warning Message box – stock could go below minimum level/negative – Click Yes to accept and update record or click No to return to form without update.
Message Box opens – Print transaction? – Click Yes to open Select Output form.
Select Print/printer to use/Display/export report to a specified file format.Click OK to Print/Display/export report.
Close form.
Record is updated and transaction appears on Stock Enquiry form.