File Menu – Cleardown Company Data
Purpose:
Use this (extremely carefully!), for example, when you wish to use the ledger accounts in a company for a different company with different data. You may wish to copy the data to a second different company and test that the resultant data is good before creating the new company.
The system allows you to choose from up to 5 options which will erase combinations of transactional and standing data from the current company's records.
Preparation:
Confirm with all system users that this is OK – are you sure you need to do this?
Ensure you have an up-to-date backup of the company's data – see Back Up & Restore Company Data.
Select the required company – see Change Companies.
Ensure all other users are off the system. Not necessary, but desirable.
Processing: On the main menu click File > Company Utilities > Data Cleardown.
Select the required option from the Drop Down List – see Data Cleardown form – below
Press Return or click OK.
At warning message click Yes to continue or No to close form without clearing down.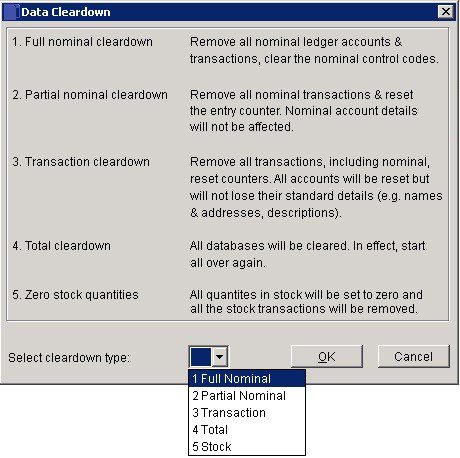 This process has been modified so there is no need for dedicated access.