Products – Print Price List
Purpose:
Print documents and reports only when absolutely necessary – useful to view whenever a product or service is created.
Processing:
On the main menu click Products > Price List, or Report Control button – Products Page – Price List button to open form.
Select printer – see Printing Reports.
Populate form as required – see Product File – Price List form – below.
Click OK to print/display/export to selected file type.
Close form.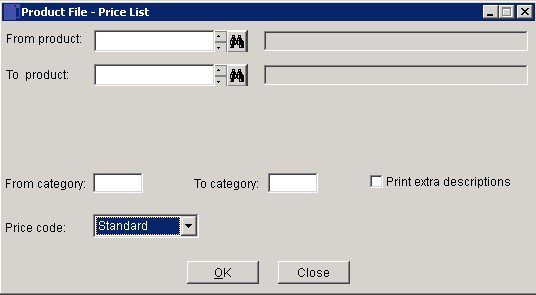 Select a range of Products and/or Categories to report on.
Leave all input fields blank to report on all products.
Check box to print the -product's extra description (if it has one) below the standard description.
Price Code: Print standard price, special prices (1-10), ranges of special prices or cost price.
Click on OK to print or export the report or Close to abandon.