Cash Book – Bank Reconciliation
Purpose: To ensure no transactions going through your bank account are missed, incorrect or fraudulent.
Reconcile the bank accounts regularly daily, weekly, monthly depending on Cash Book transaction volumes and complexity.
Preparation:
Obtain latest copies of bank statements.
Supporting documents as needed.
Processing:
On the main menu click Daybooks > Cash Book > Bank Reconciliation, or; On the main menu View > Configure Toolbar open form – see Configure Toolbar.
Check the box to the left of Bank Reconciliation.
Click Apply button to display the control button – click the control button to open the form.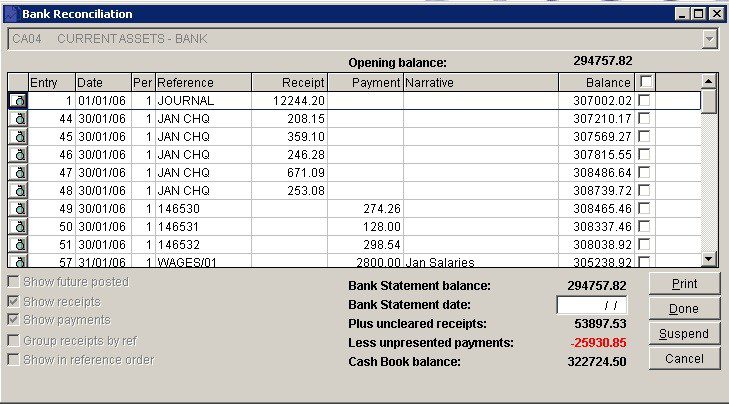 Select Bank Account .
Check Show Receipts and Show Payments in order to assist with checking against bank statement.
Check Group receipts by ref to display receipts grouped by similar references (e.g. show all BACS transactions together).
Check Show in reference order to display items sorted by reference.
Enter the Bank Statement date.
The check box next to Balance will check all – useful if all or nearly items have been presented – you can then uncheck the items not presented.
The Bank Statement balance is calculated from the Cash Book balance adjusted by the uncleared or unpresented items. As you check the cleared items the Bank Statement balance changes.
Continue until reconciliation figures agree – i.e. The Bank Statement figure.
Print finished reconciliation.
Click Done to update and clear down agreed transactions.
Note: Suspend will save what you have reconciled so far in case you wish to post corrections.
Filing:
File final print of bank reconciliation with Cash Book documents. Note number and date of bank statement showing agreed balance on the filed copy of the bank statement.