Getting Started With The Desktop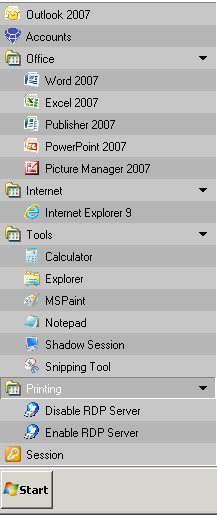 Getting Started with Prelude Desktop
Once connected to the Prelude Desktop ("Desktop"), you are presented with a full Windows desktop environment which behaves in much the same way as a Windows system does locally on your PC.
Applications that are available to your account can be found by clicking the Start button at the bottom left of your Desktop.
All accounts have access to the following:
In the Tools menu
Calculator – Windows calculator.
Explorer – Navigate around the file system and open your documents.
MSPaint – Edit images.
Notepad – View and edit plain text documents.
Snipping Tool – Clip screenshots for editing and adding to documents.
Session
To disconnect or log off the Desktop session go to start menu and click on 'Log off'.
Terminal Services Easy Print is the remote printer driver software.
Launching your Applications
Simply click Start and click the application in the menu you want to use. The applications that are available will depend on your chosen account and can include:
Prelude Business Process & Accounting
Microsoft Office (Word, Excel, Access and PowerPoint)
Microsoft Outlook and Exchange.
Other applications may be available by request. Please contact Prelude Software Ltd for more information.