Every database is created with one user, named admin. An accountant's Client Manager database can have up to three users (admin plus two others that you can add and name, as explained below). A client's database has just one user (admin). These are the default settings. Users are added and subsequently managed from User Management in the main menu.
Adding more than the default number of users can incur extra costs. Consider this only if you need to segregate duties and security levels to different members of staff and/or separately identify their activities.
Note that all users in an accountant's Client Manager database can access the Client Manager, so you must not assign Client Manager users to any clients, as they could then access all other clients' databases, which would be in breach of data protection laws. If a client needs additional users, ensure that you add them to that client's database. Client databases do not have access to the Client Manager.
Click Add User and complete the user details – see below.

Edit User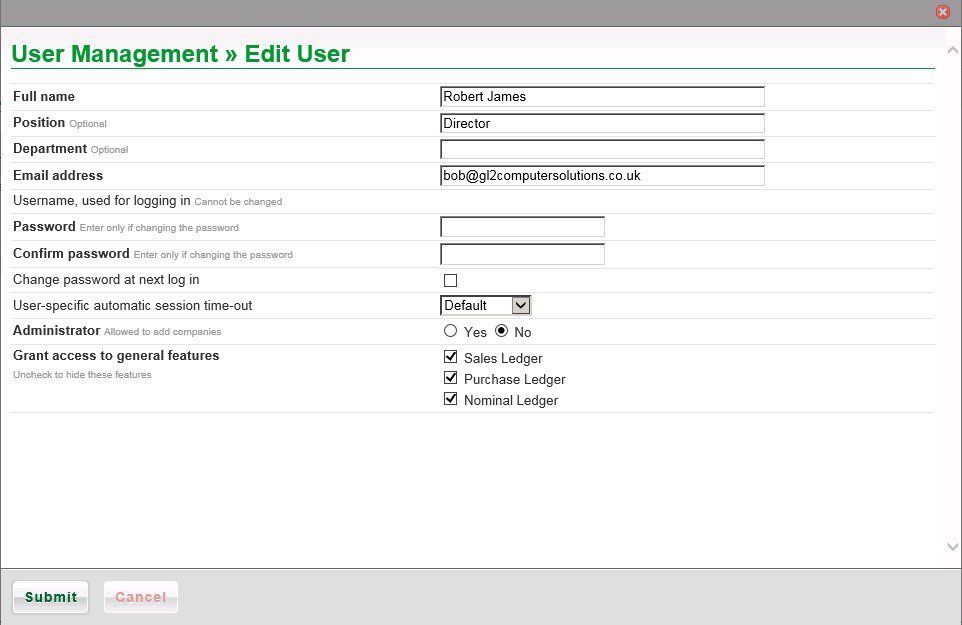 Change password – Check this box if you want to force the user to change their password the next time they log in. This is good practice if you have set a default password and/or you are creating a new user.
Time-out – set to automatically log off if no activity – for security purposes – ranges from 5 minutes to two hours.
Select radio button to set as administrator or not – You can set every user as an administrator if you wish.
If setting up a user who is a client (or a practice employee) you can restrict their access to each of the ledgers. e.g. you may wish the client to only be able to raise invoices and post cash to customer accounts or a clerk to handle only the postings to the sales ledger.
Click Submit once complete – you can return to modify these settings as often as you like.