Preparation: –
The following list of possible preparation steps will help you decide if you need to do anything before processing and if you need help.
If using Matrix (Customer specific) Pricing: For first time use only: activate Matrix Pricing, select the Product Cost to be used for margin calculations and the Discounts to be used – see Stock Control Parameters – General Page.
Ensure that price matrices have been created/amended as required – see Create & Edit Customer Specific Pricing (Price Matrices).
Set minimum target margins for products and circulate to sales staff.
Processing:
On the main menu click Orders > Customers > Enter Orders to open form.
Select printer – see Printing Reports.
Click OK to confirm selection and open form.
Complete form details – see Sales Order Entry form – below
Click OK to update records and print order.
Filing:
Any source documents retained to be cross-referenced to order and dated.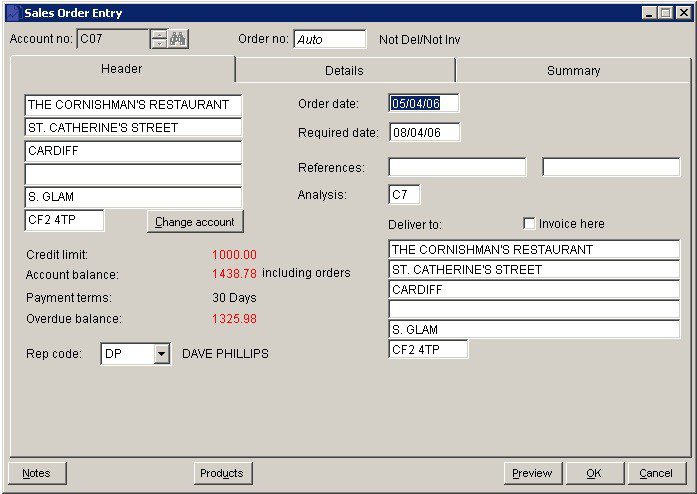 Required: Defaults to parameter setting – see Sales Order Processing Parameters – General Page. Overwrite if customer delivery date is different to that shown. The order will be reported as being due for delivery on the date shown.
References: 2 Fields – Type in a maximum of 16 characters in each field.
Change Account: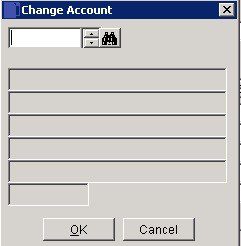 Select and click OK to update.
Analysis: Maximum 2 characters account specific – customers can be grouped together for reporting. Defaults to code shown on ledger account – see Sales Reporting.
Credit limit, Account Balance, Payment Terms and Overdue balance: These are shown in order to allow you to consider whether to process the order – if the overdue balance is not acceptable.
Please note: the overdue balance will not include any credits not matched as they may refer to non-overdue amounts – in the above example the account balance including orders exceeds the credit limit and therefore actions should be taken.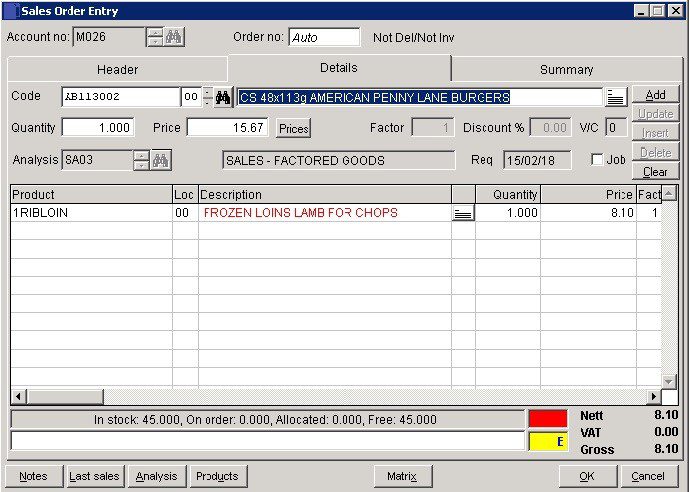 Select or search for Product – Description displays – overwrite if required.
Add Quantity, amend Price if necessary, amend VAT Code if necessary.
Enter or select other detail, then click Add to place on grid.
Line notes: Press elipsis … to display the line notes form. Enter notes that are specific to this line item in this transaction. The button turns red when a line item contains notes. Can be edited the same way as other grid items. Can be printed on stationery – see Include line notes in stationery design.
Analysis: Select required nominal code.
Note Stock availability.
Update: Select line on grid to amend. Click on Update to take to top section – amend details and click on Update again to take updated details back to grid.
Prices: When price field is selected click to open Special Prices form.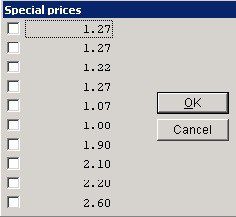 Check price required and click OK to accept.
Insert: After filling in details highlight line below where you want to insert and click on Insert.
Delete: Highlight line you wish to delete and click Delete.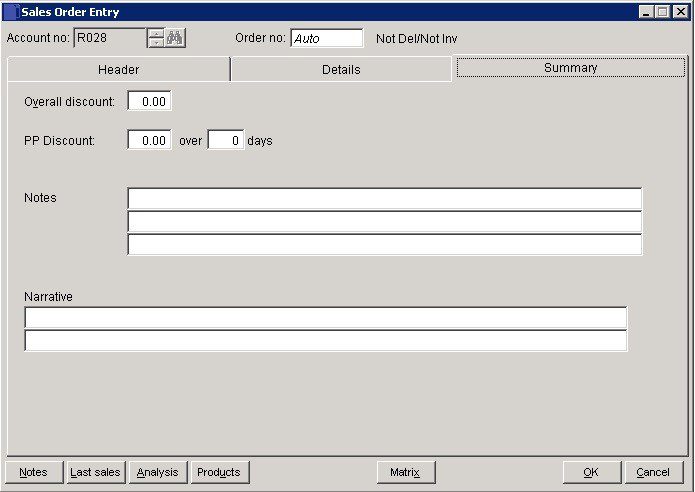 Overall Discount: Discount applying to Total Net Invoice value.
PP Discount: Prompt payment discount available for settlement within number of days from invoice date.
Notes & Narrative: Text which can be displayed on invoices/credit notes as required by including these fields on your stationery design – see Stationery design.
OK: Generate and print Sales Order.
If Use document reprints field is checked in Parameters click Yes to reprint.