Purpose:
Use this to interrogate individual ledger accounts. Prelude Desktop also allows you to see the total balances on all Groups in the Chart of Accounts. The records will always reflect the values up to the latest transactions to be processed.
use Nominal Ledger-Ledger Enquiry – next article. The last page in this form is similar to the Nominal Ledger Account Enquiry form.
Processing:
On the main menu click Ledgers > Nominal > Account Enquiry, or to create shortcut button –
On the main menu click View > Configure Toolbar > Open Form – see Configure Toolbar.
Check the box to the left of Nominal Enquiry.
Click Apply Button to display the Control Button –
Click the control button to open the form – see Nominal Ledger Account Enquiry form below.
Print if required.
Click Cancel to close form.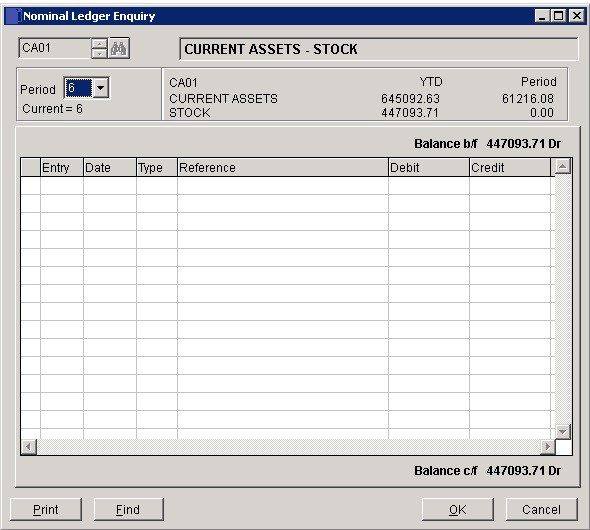 Period: Select required period or YTD.
To view opening balances, select period 0.
Grid shows all transactions posted to date within the chosen period.
When Foreign Currency is enabled additional tabs are created to show the transactions by each currency.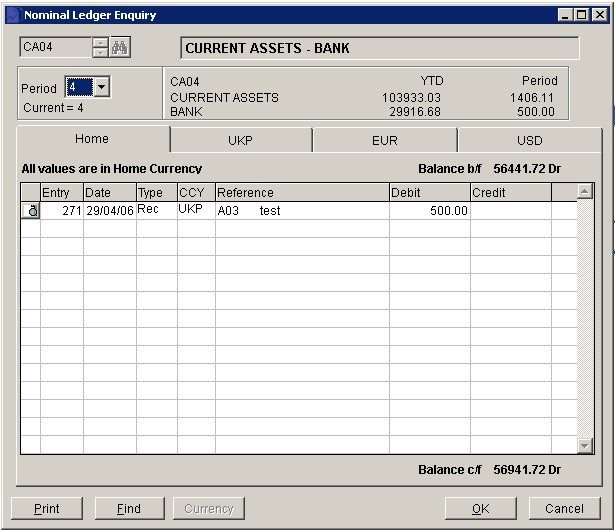 Use the Find form to filter transactions shown as well as an individual record – e,g. enter 'inv' to show just invoices.