SOP – Print A Picking List
Purpose:
A Picking List is a document on which products and services necessary to fulfil a customer order are listed. It is a useful or necessary document, for example, if order items must be collected from a stores or warehouse. The picking list can be printed in either Order Number order or in Bin Location order – both are useful in different circumstances.
Preparation:
For first time use only: On the main menu click View > Parameters > Sales Order Processing – see Sales Order Processing Parameters – General Page. Select the required option.
Processing:
During sales order entry or amendment, you will be asked if you wish to print the picking list or it will automatically be printed or skipped according to your selected parameter setting from above.
After sales order entry or amendment, you may print or reprint a picking list from the print menus.
Click Orders > Customers > Reports > Picking List by Order / Bin Location or press the reports form toolbar icon.
see Sales Order Processing – Picking List by Order – below.
see Sales Order Processing – Picking List by Bin Location – same form but reports in different order.
Action:
Forward the printed Picking List to the relevant person or department for order fulfilment.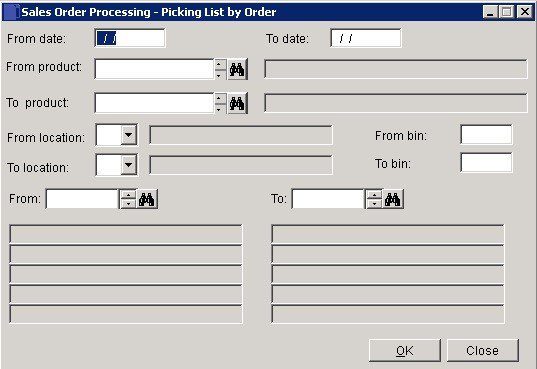 Select a range of Dates, Products, Locations, Bins and Customers to report on.
Dates: Either: manual entry formatted as DD/MM/YY. Type over the parts of the date you wish to change – the system will skip over the "/" part itself. If the date you enter is invalid; the cursor will return to the start of the date and await a valid entry, or; click on the field to highlight data – white on a blue background – then right click to open the Calendar Menu – see Dates and Calendar.
Click on OK to print or export report or Close to abandon.