Stock – Negative Quantities Report
Purpose:
If selected in Stock Control Parameters, the system will allow stock levels to fall below zero.
Use this report to identify those stock lines whose quantities have fallen below zero for you to take remedial actions.
Processing:
On the main menu click Stock > Standard Reports > Negative Stock, or; click Report Control Button – Stock> Negative Stock to open form.
Populate form as required – see Stock Control – Negative Stock Report form below.
Select printer – see Printing Reports.
Click OK to print/display/export to selected file type.
Close form.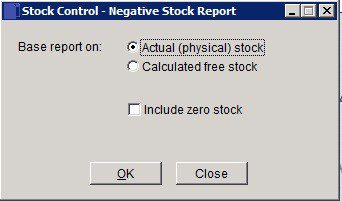 Base report on: click desired basis – see Stock Control Parameters for an explanation of free stock.
Click OK to print or export report or Close to abandon.