Sales Ledger – Customer Specific Prices Invoicing
Purpose:
If using Price Matrices populating the quantity field with a value will populate the Price field with the customer and quantity specific combination price for the product/service selected. The Price Matrix appears automatically when either the Quantity or Price fields are selected in the Invoice-Details page.
Quantity:
Price Matrix details for this product/customer combination appears on top left hand side of screen.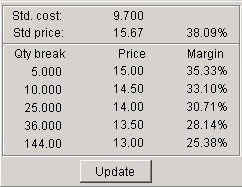 Update button disabled. Selecting break quantity will populate next field with the special price.
Price:
Default value will be matrix price for that quantity.