Assets – List Aged By Acquisition Date
Purposes: For audit and external accountants' requirements it is useful to maintain a list of current year purchases of assets. It is also usual to provide copies of the purchase invoices to support the list.
This list can be produced in Prelude Desktop through the aged list of fixed Assets – just put in the the asset range to include all assets then select active and complete statuses.
Export to Excel and select the dates relating to the financial year and add totals.
Reconciliation of the asset valuation report to the nominal ledger is an important month end exercise – it is useful to agree the assets at cost before running the monthly depreciation – taking into account any disposals in the month.
The report is in ascending order with the earliest purchase/valuation date first and shows for each asset; Code, Description, Category, Status and Purchase Date. Use this to make sure assets are fully depreciated or for impairment reviews to determine relative ages.
Processing:
On the main menu click Fixed Assets > Reports > Assets by Age
Process data – see Fixed Assets by Age form – below.
Click Close to exit form.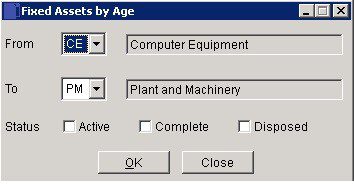 Select range of assets to report on.
Select statuses – Active for current assets still being depreciated.
Complete – no longer being depreciated but may have residual value.
Disposed – usually a separate list.
Click OK to print or export report or Cancel to abandon.