Stock – Stocktake And Other Quantity Adjustments.
Purpose:
Whenever discrepancies are found in stock quantities stock should be corrected using the stock adjustment form.
Stocktaking should be performed periodically to:
Identify missing items.
Check items are in the correct location as recorded on the system.
Ensure stock remains in a saleable condition.
Validate the accuracy of computer records.
For small stocks held in a small number of locations it may be feasible to count all stock regularly. For larger, multi-location stockholdings, Cycle Counting (also known as Perpetual Inventory) may be a preferable option. Pre-selected samples of stock lines are counted regularly in accordance with a strict programme, designed to count total stocks held at all locations at least once every financial year. Your Accountant and/or local Prelude distributor can advise you if required.
Use the Stocktake Adjustments process to adjust the quantity for a number of stock Lines following a stocktake.
Processing:
On the main menu click Stock > Movements > Adjustments for the correction of occasional discrepancies or > Stocktaking to open form.
Complete the form – see Adjustments or Stocktake form below.
Click OK to update records, and;
Print transaction as required – see Printing Reports.
Close form.
Stocktake filing:
File report of transaction with other stocktake papers. Obtain and record authorisation to make adjustments.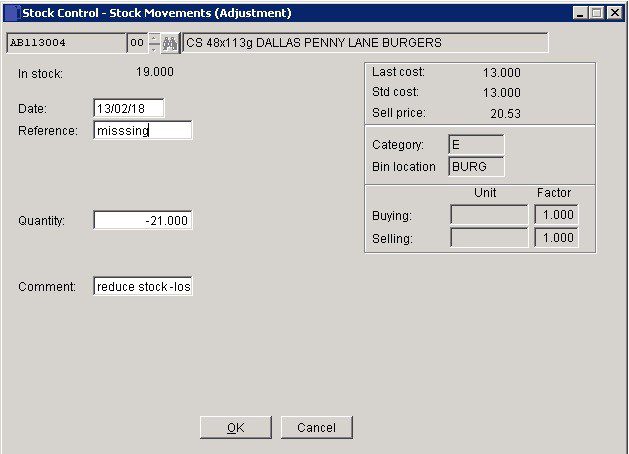 Date: Either: Manual entry formatted as DD/MM/YY. Type over the parts of the date you wish to change – the system will skip over the "/" part itself. If the date you enter is invalid; the cursor will return to the start of the date and await a valid entry, or;
click on the field to highlight data – white on a blue background – then right click to open the Calendar Menu – see Dates and Calendar.
Reference: Mandatory. Enter a unique reference to identify this transaction.
Quantity: Enter value to increase stock or negative to reduce stock
OK: Display Warning Message box – Stock could go below minimum level/Negative –
Click Yes to accept and update record or;
Click No to return to form without update.
Message Box opens – Print transaction? – Click Yes to open Select Output form.
Select Print/printer to use/Display/export report to a specified file format. Click OK to Print/Display/export report. or…Close form.
Record is updated and transaction appears on Stock Enquiry form.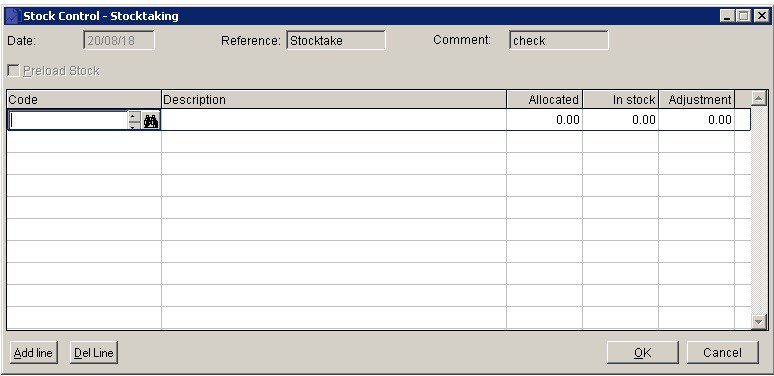 The form opens allowing you to select stock to be adjusted. Preload Stock displays stock quantities for all stock so you can amend as necessary.
Either Pre-load Stock before opening form or select each stock item and enter adjustment depending on whether it is a full stock-take or a sample selection.
If a sample stock-take add each line and click OK when finished.
Reference: Mandatory