Purpose: Your product's ledgers accumulate transactions and produce reports, usually in 12 discrete Transaction Periods within a financial year. This can vary – see View> Parameters> Nominal Ledger. To maintain strict cut-offs between periods there has to be a processs.
Each of the Sales, Purchase and Nominal ledgers has its own routine that must be run separately. to view which periods the ledgers are in go to Period Numbers. (opens in a new tab)">Status > Period Numbers Period Numbers. (opens in a new tab)">.
The Period-end routines:
Close the current period and so prevent any further transactions being created or adjusted in that transaction period in the ledger.
Click on OK to advance the ledger period by 1 into the next period. You will receive warning messages to consider before accepting the process to run the period end.
The process clears down all matched transactions into history.
Subject to the Period Rule (see Control Framework), the system will allow ledgers to close at varying times. Many companies close the sales ledgers on Day 1 after the period end, whilst the purchase and nominal ledgers may remain open for several days more.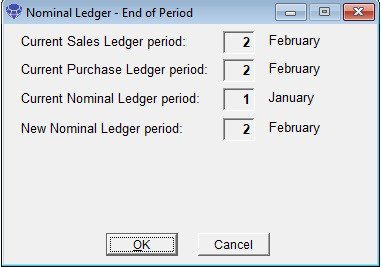 Preparation :
Ensure all the current transaction period's data has been processed – see below
Ensure all other users are off the system until period end is completed.
Ensure sales and purchase daybooks have been printed – see Print Sales or Purchase Daybook Listings.
Ensure V.A.T. reports have been printed – see Print A VAT Summary.
Process Sales and Purchase Ledger Period Ends before processing Nominal Ledger Period End.
Processing:
Click menu Ledgers > Nominal > End of Period to open form – see Nominal Ledger End of Period form above.
Warning message appears if cash book listing has not been printed – see Cash Book Transactions Report.
Click OK to process period end.
During processing the month end a rebuild of nominal balances and recalculation of exchange differences is performed – this is done in the background to enable the user to carry on working.
After processing Period 12 the Year End Routine will run. This will:
Clear down all transactions in the nominal ledger;
Reset all Profit & Loss type account balances to zero;
Transfer the net profit or loss for the year to the P&L Revenue Reserves Control Account as defined in the Nominal & Cashbook Parameters.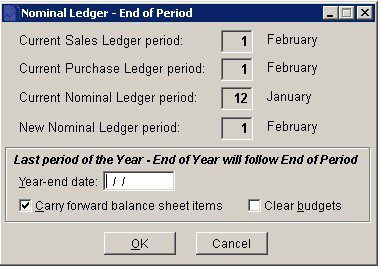 Enter Year-End date to ensure accuracy.
Reporting:
Tell other users when processing is complete and distribute reports as required.
More Useful information – Period Accounting – Post Nominal Transactions –
Post all receipts & payments not related to the sales or purchase ledgers through the cash book. Remember that V.A.T. payments and refunds have separate options on the cash book menu. Complete posting any cash sales and petty cash payments for the month. This could be standing orders, direct debits, bank charges and interest, rent payments etc.
Journal all other transactions through the Nominal Ledger journal menu. Examples are accruals, prepayments, depreciation and corrections.
Enter Payroll transactions – see Journals – Standard.
Enter Stock Adjustment Journal – see Post Profit & Loss Stock Adjustment.
Print Nominal and Cashbook Reports
Cashbook listing
Petty cash listing
Cash sales listing
Audit trail for the period
Trial balance (year to date)
VAT Summary
Input/Output Analysis report
VAT Return Form (if required)
Ledger printout (optional)
Reconcile Accounts:
Reconcile control account balances to ledger accounts and/or source data as required.
Back Up your Data.
Run Management Reports & Distribute.
Run End of Period – per above.