Assets – List By Category
Purpose:
Listing of all assets in asset number within category order and shows for each asset, all details on file (including any notes).
Processing:
On the main menu click Fixed Assets > Reports > List Assets
Process data – see Fixed Asset List form – below.
Click Close to exit form.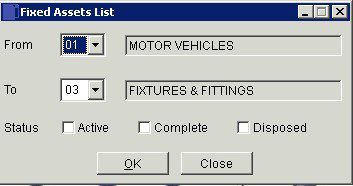 Select range of assets to report on.
Select statuses – Active for current assets still being depreciated.
Complete – no longer being depreciated but may have residual value.
Disposed – usually a separate list.
Click OK to print or export report or Cancel to abandon.