Stock – Transaction List For Individual Items (Stock Card)
Purpose:
Use to report, review and reconcile all transactions for either a single item or a range of items.
The report lists details of each movement and its associated cost including both current & historical records.
Processing:
On the main menu click Stock > Standard Reports > Stock Cards to open form or click Report Control Button – Stock > Stock Cards to open form.
Populate form as required – see Stock Control – Stock Cards form below.
Select printer – see Printing Reports.
Click OK to print/display/export to selected file type.
Close form.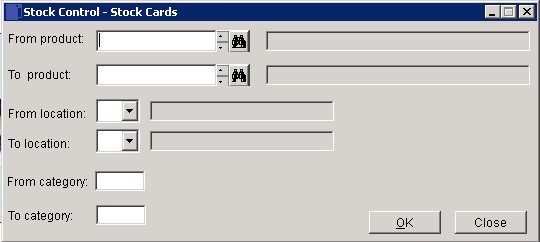 Select the various ranges to print the transactions you need.
Click OK to print or export report or Close to abandon.