Transfer Amounts Between Bank Accounts
Purpose:
To transfer money between different bank accounts, which includes –
1. Drawing a Petty Cash cheque to top up the float.
2. To top up a till float where the till is operated like a bank – or for Cash Sales – see Manage Bank Accounts.
3. Paying credit cards where the credit card account is operated like a bank account.
4. Transferring funds to reserve and deposit accounts, possibly to save up for VAT and taxation.
5. Payments made against loan accounts where the loan account is operated like a bank account.
Processing:
Click on Banking > Transfer between bank accounts – title(hyperlink).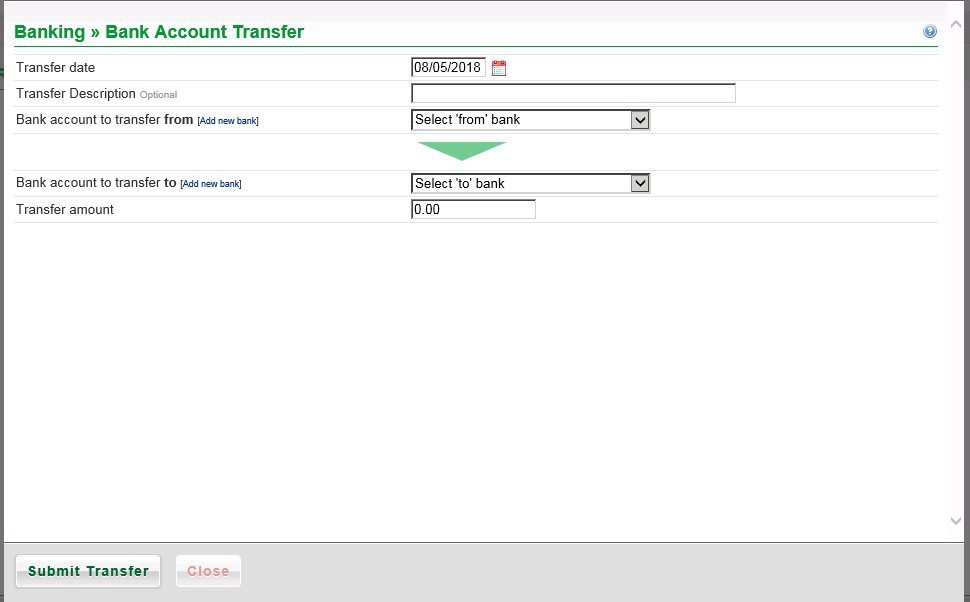 Enter date transfer made from bank account. If date different, overtype or select from Datepicker.
Whilst optional, it is good practice to enter a reason for the transfer in Transfer Description.
Select the two bank accounts , ensuring you get them the right way round. If you do get this wrong you will need to do a reverse entry and the correct entry.
When happy, click on Submit Transfer or Close to not make a transfer.