Costing – Transaction Reports
Purpose:
To Report on costing transactions by type. Some reports contain sensitive information, and their circulation will need to be controlled.
Processing:
On the main menu click Costing > Reports >Transaction Reports.
From the list select report required – see Reported Data List below.
Select printer – see Printing Reports.
Click OK to print/display/export to selected file type.
Close form.
Reporting:
Distribute reports as requested – remember that some reports contain commercially sensitive or personal information.
Filing:
As required – but be aware that some reports contain confidential information.
List of Reports:
Transactions By Contract
Transactions By Job
Transactions By Account
Transactions By Cost Code
Transactions By Employee
Transactions By Equipment
Transactions By Product
All Reports use the same form, but order the data by the field selected.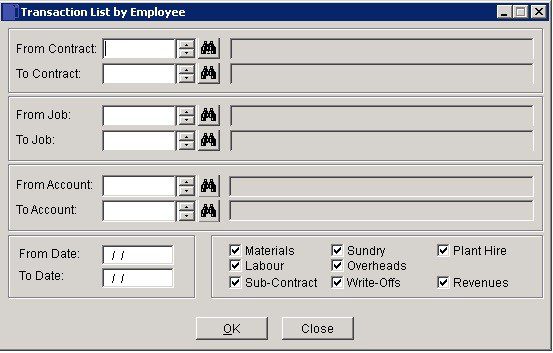 Select range of Contracts, Jobs and Customers.
Dates: Select to report all Jobs with the selected status with actual start dates falling into the selected date range.
Either: Manual entry formatted as DD/MM/YY. Type over the parts of the date you wish to change – the system will skip over the "/" part itself. If the date you enter is invalid; the cursor will return to the start of the date and await a valid entry, or; click on the field to highlight data – white on a blue background – then right click to open the Calendar Menu – see Dates and Calendar.
Cost Types: Check to include some or all of Materials, Sub-Contract, Overheads, Labour, Sundry, Write-Offs, Revenues.
Click OK to print report or Close to abandon.
Sample report: