Purpose:
Run this report prior to making any Global Price Changes. Remember that this is commercially sensitive information and circulate and store reports accordingly.
Processing:
On the main menu click Stock > Standard Reports > Price List to open form or click Report Control Button – Stock > Price List to open form. Populate form as required – see Stock Control – Price List form – below.
Select printer – see Printing Reports.
Click OK to print/display/export to selected file type.
Close form.
Filing:
Distribute as required by management and file a hard copy in a secure location, with any supporting documents.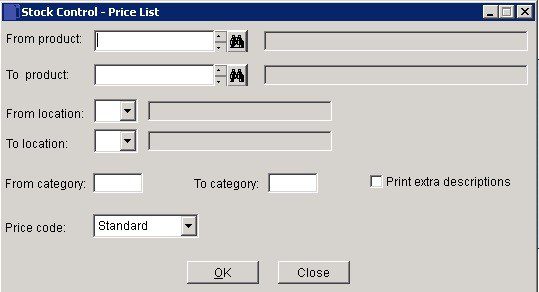 Select the various ranges to print the transactions you need.
Print extra descriptions: Print the product's extra description (if it has one) below the standard description.
Price Code: Print Standard price, Special prices (1-10), Ranges of special prices, Cost price.
Click OK to print or export report or Close to abandon.