Cash Book – Purchase Ledger Batch Payments
Purpose:
Many businesses produce payment 'Runs' weekly or monthly. A suggested payment list is generated according to user selections, from which individual payments can then be selected. You can then choose to either print this list, print remittance advices or cheques or produce an output file with which to make payments electronically, and, once selected, post the selected payments to the purchase ledger.
Preparation:
Ensure you have supporting documents to hand to answer any queries.
Resolve any supplier issues – such as disputed price, disputed quantity, late/failed delivery etc.
For first time use only: Define the file structure to be used for BACS/CHAPS payments in Nominal and Cash Book Parameters – see Nominal & Cash Book – General Page. Please contact your local Prelude distributor or your bank for advice.
Processing:
On the main menu click Daybooks > Cash Book > Payments > Purchase Ledger > Automatic to open form.
Select supplier invoices to be paid as required – see Cash Book – Automatic Purchase Ledger Payments form – below
Produce a Pay List and review selection – if necessary obtain management authorisation for payments.
Make any amendments and review as required.
Once agreed and authorised, post payments to the purchase ledger.
Select payment documents.
Select printer – see Printing Reports.
Click OK to print/display/export to selected file type.
Close form.
Balancing/Reconciliation:
Agree balance on ledger account with latest statement from supplier and query and resolve any differences with the supplier.
See Bank Reconciliation.
Reporting:
Sign and date Pay List and file in a secure location. File copy of remittance advice if required. Ensure both payments and/or remittance advices are promptly despatched to suppliers.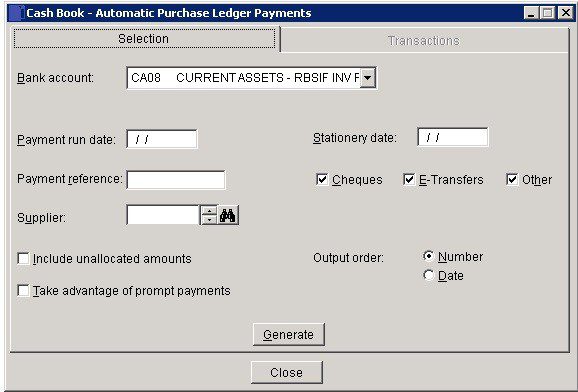 Bank: Important! – Please select the bank account the payment was (is to be) made from.
Payment Run Date & Stationery Run Date: Either: Manual entry formatted as DD/MM/YY. Type over the parts of the date you wish to change – the system will skip over the "/" part itself. If the date you enter is invalid; the cursor will return to the start of the date and await a valid entry, or; click on the field to highlight data – white on a blue background – then right click to open the Calendar Menu – see Dates and Calendar.
Payment Reference: 16 characters.
Include unallocated: Check to display unallocated payments on a supplier ledger account.
Prompt Payments: Check to include invoices qualifying for prompt payment discount.
Output order: Invoices shown in Date or Number order within supplier.
Generate: Opens Transactions page.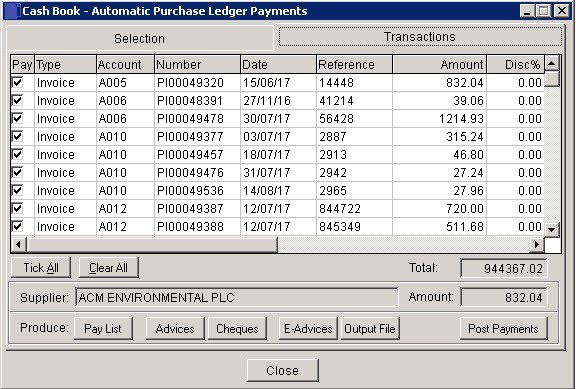 Pay: Check (default) to include the transaction shown in the payment list.
Pay List: Click to print/display a suggested Payment List.
Advices: Click to print Remittance Advices for each supplier on the payments list one at a time.
Cheques: Click to print 1 cheque per supplier.
E Advices: Click to print E Advices for each supplier on the Payments List one at a time.
Output File: Open message box – click OK to produce BACS/CHAPS output file if no stationery printed. File structure must be defined in Nominal and Cash Book Parameters.
Post Payments: Opens message box – Yes to post to the next period, No to post payments to the current ledger period.