Purchase Ledger – Daybook Report
Purpose:
To print whenever necessary but certainly at month end. Use to check for missing invoices against supplier statements.
Processing:
Either: On the main menu click Daybooks > Purchases > Daybook Listing, or: click Report control button > Daybooks Page – click Purchase Daybook Listing button – see Control Buttons.
Select required options on form.
Click OK to select output – see Printing Reports.
Click OK to print/display/export to selected file type.
Close form.
Filing:
If required file copy of Daybook Listing with copy invoices or create and file .pdf copies.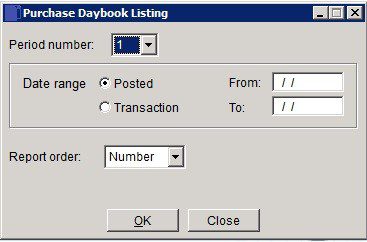 Period Number: Select Period number to print or YTD.
Report Order: Select Document Number, Document Date or Ledger Account order.
Posted Date Range: Either: manual entry formatted as DD/MM/YY. Type over the parts of the date you wish to change – the system will skip over the "/" part itself. If the date you enter is invalid; the cursor will return to the start of the date and await a valid entry, or; click on the field to highlight data – white on a blue background – then right click to open the Calendar Menu – see Dates and Calendar.
Warning message box is displayed if entered date is more than 6 months older than default transaction (system) date.
Select transaction date range start date – if blank will print all invoices/credit notes in selected transaction period.
Click 'OK' to print or 'Close' to not print.