Purchase Daybook Batch Input
Purpose:
To post a number of purchase invoices and credit notes at the same time – where no purchase orders have been raised. For multiple line invoices you may wish to use the Post Invoice menu option.
Preparation:
If you wish to use the supplier' invoice numbers change the settings in Set Supplier Preferences.
Processing:
Click on Supplier > Daybook Batch Input to open form-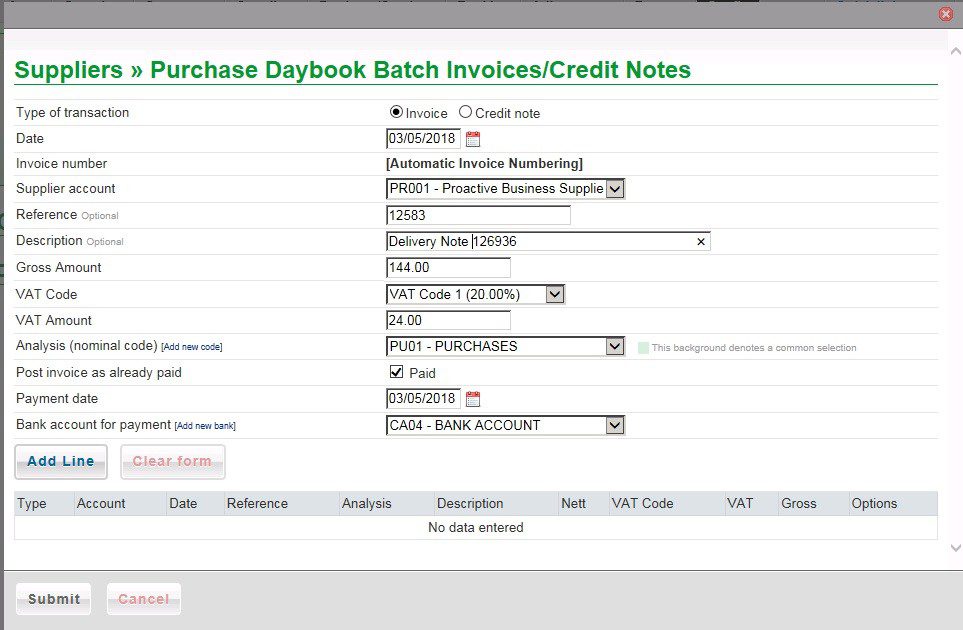 If posting a Credit note click on the radio button.
Enter date of invoice – manually or use Datepicker.
Select Supplier from dropdown.
Enter supplier invoice number in Reference – see Preparation note above.
Enter amounts and description and select analysis code.
If the invoice has already been paid tick the Post invoice as already received checkbox. The payment date and default bank account will appear – amend if necessary and enter Reference – the system will post an entry to the bank account and the supplier's account when submitted.
Click on Add Line to show the document in the grid then add the next invoice or credit note until the batch is processed.
Click on Submit to post the invoices, credit and cash to the supplier accounts, cash book and nominal ledger.
Please ensure you add the last line – you will receive a warning if you don't.

Just correct and carry on.