Purchase Ledger – Purchase Analysis
Purpose:
Use the analysis code to help manage procurement activity in your business and to ascertain spend on particular types of expenditure.
Preparation:
Ensure supplier ledger accounts are up to date – see Create and Edit Supplier Accounts and transactional postings are also up to date.
Ensure product file is up to date – See Add & Edit Products or Services.
Processing:
On the main menu click Ledgers > Purchase > Reports > Supplier Analysis, or Reports control button – Purchase Page – Supplier Analysis.
Select printer – see Printing Reports.
Click OK to print/display/export to selected file type.
Close form.
Reporting:
Distribute reports as requested – remember that this is commercially sensitive information.
Filing:
As required – but be aware that this might be useful to your competitors.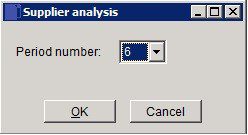 Select the period then click OK to print or Cancel to close without printing.