DTill – Simple Processing
Simple DTill …
is a simplified overlay of the touch screen interface.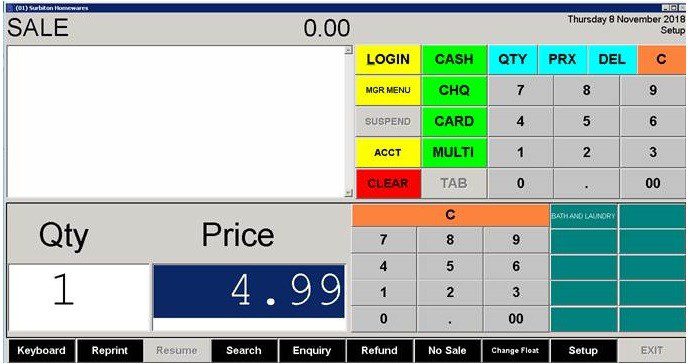 This simple interface can be used as a temporary measure until all sales goods items are added to stock and/or bar coded.
The simple interface has a default quantity of 1 and can be overwritten by clicking on the QTY button and entering the quantity.
The price is entered directly into the price section and can be amended using the PRX button.
Process – Enter Qty, then Price then select analysis (example above is BATH AND LAUNDRY) by touching the appropriate button.
The entries total in the same way as DTill and the payment and receipt printing also. – See DTill Transactions – Record Sales and Refunds.
The Buttons
CLEAR – Clears rhe screen and closes but retains the details until accepted or cancelled.
DEL – Delectes the selected line from the display.
C – Clears the entry from the number pad.
The manager menu allows you to add or edit buttons – up to 10.
To switch to full use go to MGR MENU> Settings and tick 'Use button groups for individual product items' . Please note that the settings menu will not display if Setup button is Red.