Purpose:This report is s so much more than a Trial Balance as there are a number of filters to allow you to print off lists of balances for many purposes. Print as required for cost centre analyis or by groups plus a full Trial Balance at least monthly before running End of Period.
Processing:
Either: On the main menu click Ledgers > Nominal > Standard Reports > Trial Balance, or click Report Control button – Nominal Page – Trial Balance to open form.
Select parameters – see Nominal Ledger Trail Balance form – below.
Select printer – see Printing Reports.
Click OK to print/display/export to selected file type.
Close form.
Reporting:
Auditors may require an additional copy at year end.
Filing:
File with month end working papers.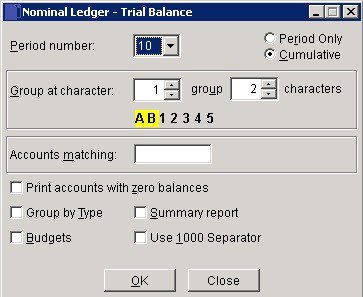 Period Number: Select a single transaction Period or year-to-date (YTD).
To view opening balances, select period 0.
Select Period Only or Cumulative (Year to date).
Select Group Filtering: Based on your account structure.
Accounts Matching: The character '?' matches any single character in the account code while the '*' character matches any number of any characters. For example – Mask matches
SA produces SA01, SA02, SA21, etc.
*01 Produces EA01, FA01, SA01, etc.
SA1? Produces SA10, SA12, SA14, etc.
* or blank produces All accounts.
Check the various check boxes to further filter your results.