Assets – Valuation Report
Purpose:
To report on the value of assets maintained in the Fixed Asset Register. The report is in Asset Number within category order and shows for each active (i.e. not sold) asset the Original Cost and Accumulated Depreciation. Depreciation will include the latest amount of monthly depreciation.
Processing:
On the main menu Click Fixed Assets > Reports > Assets Valuation
Process data – see Fixed Asset Valuation form – below.
Click Close to exit form.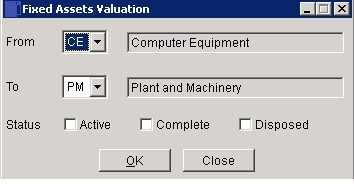 Select range of assets to report on.
Select statuses – Active for current assets still being depreciated.
Complete – no longer being depreciated but may have residual value.
Disposed – usually a separate list.
Click OK to print or export report or Cancel to abandon.