Purchase Ledger – Turnover Report
Purpose:
To show net Purchase Invoice & Credit Note value, number of documents posted and date of last document for each supplier.
Preparation:
Ensure supplier ledger accounts are up to date.
Processing:
Either: On the main menu click Ledgers > Purchase > Reports > Supplier Turnover, or
click Reports control button – Purchase Page – Supplier Turnover.
Select parameters – see Supplier Turnover form below.
Select printer – see Printing Reports.
Click OK to print/display/export to selected file type.
Close form.
Reporting:
Distribute reports as requested – remember that this is commercially sensitive information.
Filing:
As required – but be aware that this would be useful to your competitors.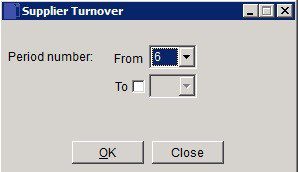 Select range of periods to print and click on 'OK' to print or 'Close' to not print.