File Menu – Stationery Design – Print When
Purpose: The Print When facility allows you to set certain conditions upon when an object is actually printed in the document produced by stationery design.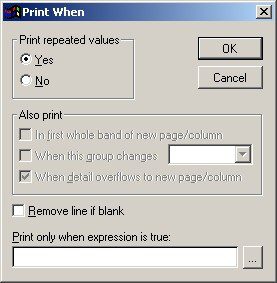 Print repeated values – This must always be set to "Yes". Please contact your Prelude software supplier to use this condition otherwise.
Remove line if blank – Check this box to ignore this object if it is empty rather than printing a blank line. This assumes the object occupies a line on its own in the stationery design.
Print only when – Use this condition to control whether an object is printed based on conditions that can vary within the document (for example the copy number or page number) or each time the document is printed (for example customer code, invoice amount).
Press the ellipsis button ….. to launch the Expression Builder to help ensure the correct syntax for your expression.
To open Print When – left click the "Print When" button in the Report Expression form.