Cash Book – Post Petty Cash Payments
Purpose: To control small amounts of expenditure. Post at least monthly as part of monthly accounting procedures.
Preparation:
Ensure all petty cash payments have been properly authorised.
Ensure you have supporting documents to hand to answer any queries.
Obtain an up-to-date nominal code list – see List Chart of Accounts.
Processing:
On the main menu click Daybooks > Cash Book > Payments > Petty Cash
Process payment – see Cashbook – Petty Cash Payments form – below.
Click OK to update.
Balancing/Reconciliation:
Month end balance on the nominal petty cash account should equal the value of cash in the petty cash tin.
Reporting:
As required – see List Petty Cash Transactions.
Filing:
File any supporting documents with other petty cash supporting documents.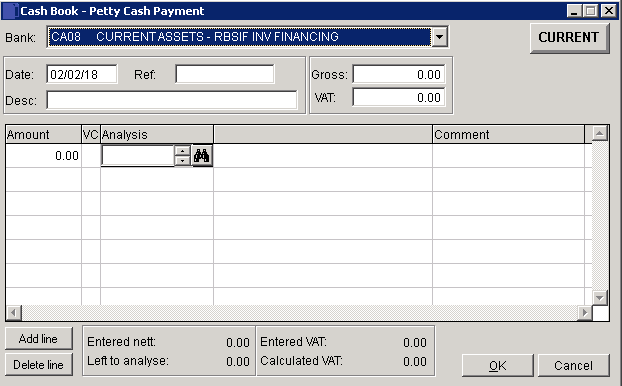 Bank: Petty Cash control account as defined in Nominal Ledger and Cash Book Parameters.
Date: Either: Manual entry formatted as DD/MM/YY. Type over the parts of the date you wish to change – the system will skip over the "/" part itself. If the date you enter is invalid; the cursor will return to the start of the date and await a valid entry, or; click on the field to highlight data – white on a blue background – then right click to open the Calendar Menu – see Dates and Calendar.
Reference: For petty cash listing.
Gross & VAT: Enter total amounts – usually monthly spend.
Enter Net Amount and appropriate VAT Code and amount on each line until Left to analyse = nil and Entered VAT = Calculated VAT – differences can be adjusted.
Click OK to post to ledgers and Petty Cash control or Cancel to abandon.