Purpose:
Use at month end to post Accruals and Prepayments before running management accounts. These entries can only be made into Nominal Ledger accounts. Only use if you fully understand the principles of accruals and prepayments. The journals work on the basis of all adjustments being made in one month and reversed the next.
These will automatically reverse after running the Nominal Period End process.
The process uses the same tasks for both Prepayments and Accruals journals. The forms used are similar to that used to Adjust Ledger Entries, except that Debit and Credit entries do not have to balance to zero before the journal is posted. The net balance on the journal is posted to either the Prepayment or Accruals Nominal Control Account.
Preparation:
For first time use only – ensure Accruals and Prepayments Nominal Accounts and Control accounts have been set up in Nominal Ledger & Cashbook parameters.
Processing:
On the main menu click Ledgers > Nominal > Journals > Prepayments or; Click Ledgers > Nominal > Journals > Accruals to open form.
Entry is as for Standard Journal but only one side required – the balance is automatically posted to the Accruals or Prepayment Account – see Nominal Journal Prepayments form or Nominal Journal Accruals form.
OK to post, Cancel to close form without posting.
Print as required – see Printing Reports.
Balancing/Reconciliation:
Investigate and adjust any uncleared balances on the Accruals or Prepayment accounts before or after nominal ledger period end.
Filing:
File a copy of journal with any supporting documents as required with month end working papers.
Note: Except for the heading both journal forms are identical.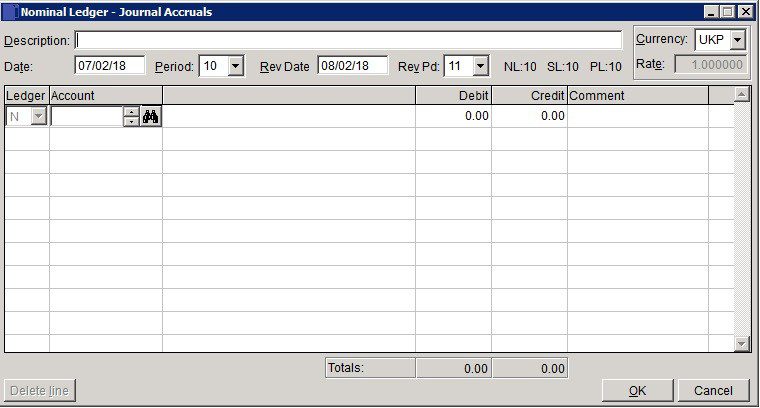 Description: Mandatory – enter brief explanation for the adjustment.
Date: Enter the appropriate date or accept default Accounting Date – Many journals are posted after the period end and it is usual to date these as the last day of the period.
Ledger: Select S for Sales Ledger adjustment, P or Purchase Ledger or accept default of N -Nominal ledger.
Select Account and Cost Centre ( Nominal only – if activated).
Debit, Credit: Enter either Debit amount or Credit amount for each line – a line cannot contain both.
Comment: Brief notes to be displayed in the nominal ledger against this entry.
Totals: The sum of all entries in each of the Debit & Credit columns – these must be the same before the journal can be posted.
Delete Line: Highlight line and click on Delete.
OK: Updates record and displays transaction number of journal. Message box, click Yes to print, No to close print form. If Yes – select required output for report.
Cancel: Display warning message box – click Yes to close form without update, No to return to form.