Assets – Cleardown History
Purpose:
Use this to release storage space on your hard disk.
Preparation:
Ensure all other users are off the system.
Ensure you have a recent backup copy of your data – see Back Up & Restore Company Data.
Print a list of assets (as required) – see Assets – List by Category and Assets – Valuation
Processing:
On the main menu click Fixed Assets > Assets Cleardown.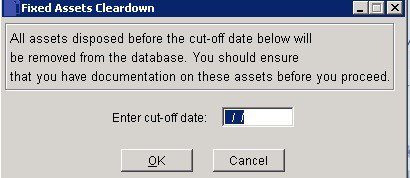 In the Enter cut-off date field – Enter the cut-off date. Either:
Manual entry formatted as DD/MM/YY. Type over the parts of the date you wish to change – the system will skip over the "/" parts itself. If the date you enter is invalid the cursor will return to the start of the date and await a valid entry, or click on the field to highlight data – white on a blue background – then right click to open the Calendar Menu – see Dates and Calendar.
Click OK to open Warning Message Box.
Message box will display number of assets records to be purged. Click Yes to cleardown , No to return to form or; Click Cancel to close form.
Message box confirms cleardown, Click OK to close form.
Reporting:
Print a list of assets before and after cleardown to show which records have been purged.
Filing:
File hard copy of the reports in a secure location. Label file with date of cleardown and cut-off date.
This process has been modified so there is no need for dedicated access.