Purpose:
To record whenever stock is issued to production, not used and returned to stock. This stock must be in the same condition it was issued at and must be priced back into stock at the same value as it was issued.
Processing:
On the main menu click Stock > Movements > Returns to open form.
Complete the form – see Returns form.
Click OK to update records, and;
Print transaction as required – see Printing Reports.
Close form.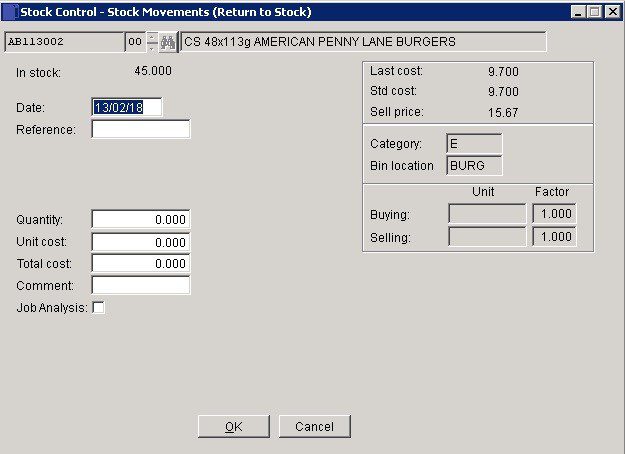 Date: Either: Manual entry formatted as DD/MM/YY. Type over the parts of the date you wish to change – the system will skip over the "/" part itself. If the date you enter is invalid; the cursor will return to the start of the date and await a valid entry, or;
click on the field to highlight data – white on a blue background – then right click to open the Calendar Menu – see Dates and Calendar.
Reference: Mandatory. Enter a unique reference to identify this transaction.
OK: Display Warning Message box – Stock could go below minimum level/Negative – Click Yes to accept and update record or
Click No to return to form without update.
Message Box opens – Print transaction? – Click Yes to open Select Output Form.
Select Print/printer to use/Display/export report to a specified file format.Click OK to Print/Display/export report.
Close form.
Record is updated and the transaction appears on Stock Enquiry form.