Purpose:
Your system automatically generates a unique sequential reference number for each entry, the Transaction Number for that posting. This can be used to select an entry to be viewed, printed or exported to a file. Print at least monthly as part of Nominal Period End process. You can either report by transaction number (to investigate/reconcile accounts) or by periods (for month/year end reporting).
You can print details of both individual and ranges of ledger postings.
Preparation:
Ensure all required journals have been posted – see Make Nominal Ledger Adjustments.
Ensure all daybook entries for the transaction period have been posted.
Processing:
Either: On the main menu click Ledgers > Nominal > Standard Reports > Audit Trail, or click Report button – Nominal Page – Audit Trail to open form.
Report either by Transaction Number or by Period – see Audit Trail form below.
Select printer – see Printing Reports.
Click OK to print/display/export to selected file type.
Close form.
Reporting:
Auditors may require a copy at year end. The Audit Trail also reports the system date, time and user name recorded with nominal transactions.
Filing:
File with month end working papers.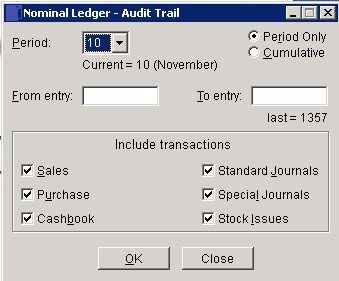 Enter a range of numbers to report on – Nominal Ledger Enquiry should give you a good idea of what the first entry number should be.
Select the Period Number containing the range you wish to report on.
Select which transactions to filter on – or leave for all transactions.
Click OK to run report or Close to abandon.