File Menu – Back Up Company Data
Purpose:
It cannot be over-emphasised how important it is to back up your data to protect you in the event of a major disaster, system crash or data corruption. Many businesses have failed in the past because they could not retrieve their lost data after such an event.
Backing up can be categorised in three different types:
Complete system backup to protect you from a major disaster or system crash. This should include the maintenance of an alternative working computer system with all necessary applications installed, regular (we recommend daily) backing up (i.e. copying) and off-site storage of all your computer-stored business data and a documented and understood Disaster Recovery Policy and protocol to follow in the event of a major disaster or system crash. This is beyond the scope of the Help file.
Specific application backup whereby you back up data specific to a particular application using the back-up routines supplied with
the application.
Archive backup for reference to historical data (e.g. prior Period-End or Year-End company results) or to provide a recovery point before you carry out major changes to important data (e.g. Stationery Design, Nominal Account structure, Customer or Supplier details etc.). This can be done quite easily by copying the current company data to a back-up company. See Change Companies, Create New Companies, Copy Company Data.
If you are backing up for data security we recommend that this is done daily and that you back up to a portable media (e.g. Back up Tape, CD ROM or flash drive) to store off site.
Periodically you should test that your back-up data is recoverable by running a trial restore of the data – see Restore Company Data.
Preparation:
Ensure all other users are off the system.
Ensure you have no other Prelude Desktop forms open.
Decide which companies' data you are going to back up.
Ensure you have appropriate back-up media with sufficient disk space.
Processing:
On the main menu click File > Backup & Restore > Back Up Company Data to open form – see Back Up Company Data Form below.
Select the companies to be backed up.
Select the backup destination with the browse button.
The system will create a file named BackupXX-YYYYMMDD@HHMM.zip for each company selected where XX is the Company Number and the tail of the file name includes a date and time stamp.
The system will warn you if it finds a file in the destination with the same name as any file to be created and ask you if you want to overwrite that file.
The system will create back-up files in order until the destination disk space is exhausted and will warn you that it was unable to save all files.
Click OK when back up is complete.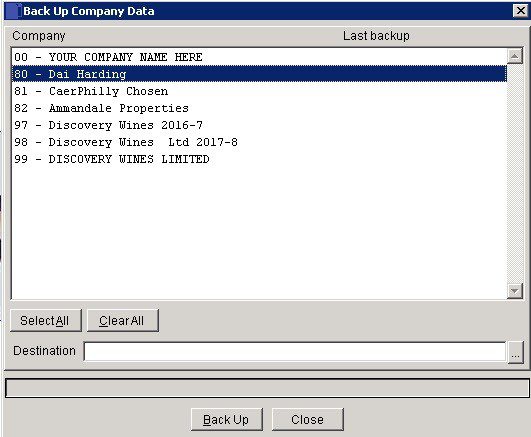 Security of Data:
The back-up media should be portable so that it can be stored off site. Consider storing in the cloud as well.
Restore Company Data:
In the event that your company data is lost or corrupted you can retrieve it from the back-up media using Restore Company Data.