Purchase Ledger – Cleardown History
Purpose:
Use this to release storage space on your hard disk. The process will delete all Matched transactions from purchase ledger accounts up to the specified date – see also Match Sales or Purchase Ledger Transactions for an explanation of what matching is and how to do this on the system.
Preparation:
Ensure all other users are off the system.
Ensure you have a recent back-up copy of your data – see Back Up & Restore Company Data.
Print ledger account transactions – see Supplier Account Transactions.
Processing:
On the main menu click Ledgers > Purchase > History Cleardown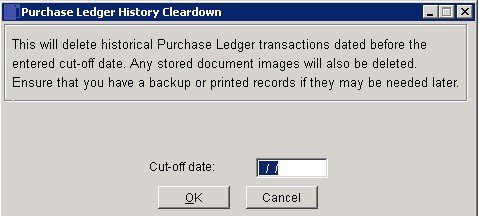 In the date Field – Enter the Cut-off date Either: manual entry, formatted as DD/MM/YY. Type over the parts of the date you wish to change – the system will skip over the "/" parts itself. If the date you enter is invalid, the cursor will return to the start of the date and await a valid entry, or
click on the field to highlight data – white on a blue background – then Right Click to open the Calendar Menu – see Dates and Calendar.
All transactions prior to this date will be purged from the system.
Click OK to start cleardown, or click Cancel to close form and exit without purging data.
Filing:
File .pdf or Excel copy of ledger account transactions in a backed up directory. Label file with date of cleardown and cut-off date.
This process has been modified so there is no need for dedicated access.