DTill – Daily Takings Report
Purpose:
Run daily to show the takings of the selected branch analysed by transaction within payment type.
Processing:
Either click on the button on the managers menu.
or in Prelude Desktop on the main menu click EPOS > Reports > Payment Type Analysis.
Select information to be reported – see Payment Type Analysis form – below.
Select printer – see Printing Reports.
Click OK to print/display/export to selected file type.
Close form.
Filing:
File report with working papers in a secure location.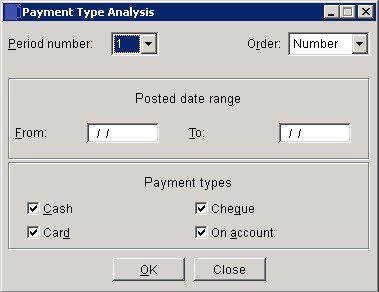 Period Number: Select transaction period to report or YTD.
Report Order: Select Number (items in line number order), Date (items in date order) or Account (items in account number order.
Dates: Print a range of items using Posted Date. Either: manual entryformatted as DD/MM/YY. Type over the parts of the date you wish to change – the system will skip over the "/" part itself. If the date you enter is invalid; the cursor will return to the start of the date and await a valid entry, or click on the field to highlight data – white on a blue background – then right click to open the Calendar Menu – see Dates and Calendar.
Check Payment types to be included in report.
Click OK to print report or Close to abandon.