Assets – Create And Edit Records
Purpose:
To create records for the fixed asset register. The system will allow users to calculate and post depreciation for each asset according to the data input on this form.
Each fixed asset has its own unique identification code that is made up of 8 alphanumeric characters.
By carefully designing asset codes, users can track improvement costs, revaluations and part disposal of assets as required. Your Prelude distributor will be able to advise on how best to set up both Asset & Nominal Ledger codes and Asset categories to suit business needs.
This module will allow part depreciated as well as new assets to be tracked by allowing these to be added at a written down value.
It is recommended that the original cost and accumulated depreciation are entered whenever second hand or transferred assets are entered on to the register so that assets can still be depreciated at a realistic cost and over their remaining useful life.
Preparation:
Print an up to date Category List – see Assets – List Categories.
Print an up to date Asset List – see Assets – Listing.
A recent print of the existing Nominal Ledger codes – see List Chart of Accounts.
For first time use only; create required Cost, Depreciation and Disposal balance sheet and profit and loss account nominal ledger codes – see Add & Edit Nominal Accounts.
For first time use only; create required Asset Categories – see Assets – Create and Edit Categories.
For first time use only; Obtain full details of existing assets to be entered onto the system.
Processing:
On the main menu click Fixed Assets > Asset Maintenance.
Process data – see Fixed Assets Maintenance form – below.
Click Close to exit form.
Balancing/Reconciliation:
Reconcile transactions to Nominal Ledger account balances for Cost and Depreciation. Post disposal transactions using Standard Nominal Journals.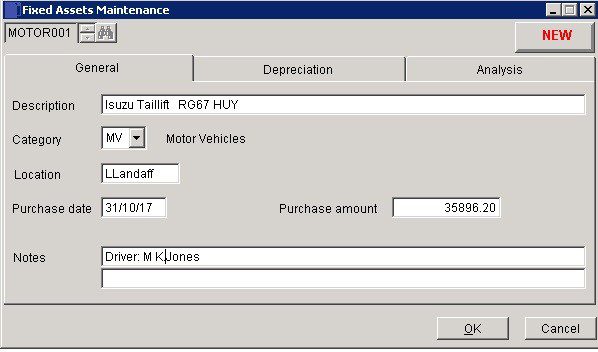 Note: Set up categories before setting up assets.
Description: asset details (max. 30 characters).
Location: The physical or virtual business area where the asset is being used (max 10 characters). Movements between locations should be properly authorised by senior management and the reasons for this logged and dated.
Purchase date: Either: manual entry formatted as DD/MM/YY. Type over the parts of the date you wish to change – the system will skip over the "/" part itself. If the date you enter is invalid; the cursor will return to the start of the date and await a valid entry, or; click on the field to highlight data – white on a blue background – then right click to open the Calendar Menu-see Dates and Calendar.
Purchase amount: Entry will depend on whether the asset is being transferred onto the fixed asset module or a new acquisition.
-Existing asset, Straight Line Depreciation – Original cost.
-Existing asset, Reducing Balance Depreciation – NBV on date input.
-New asset – Full Cost
Note: – Enter all costs exclusive of VAT. Notes: 2 lines of 60 characters
With more complex purchases of assets advice may be needed to determine the true asset value . e.g. the above should not include road fund licence.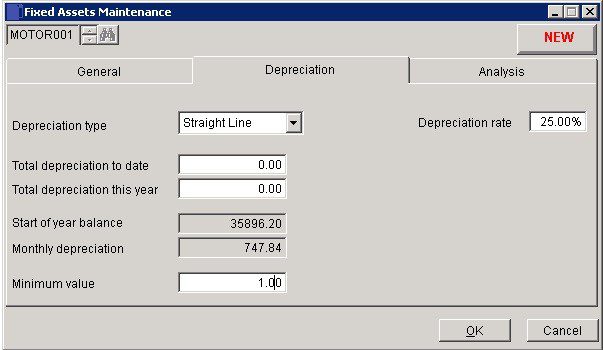 Depreciation type: Straight Line or Reducing Balance.
Total Depreciation to date – Accumulated depreciation as at input date.
Total Depreciation this year – Amount charged to the P & L this financial year to date. This only applies to existing assets brought into the system – but is also used to accumulate depreciation charged in the future.
Start of Year balance: New asset value or calculated by the system each financial year.
Monthly Depreciation: Calculated by the system as 1/12 of the annual charge.
Minimum Value: The value depends on financial policy – assets are often retained after being fully written down – the minimum or residual value indicates the item is still in use – if not, it should be disposed of.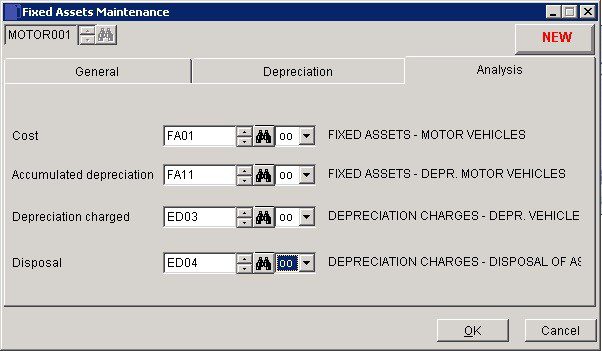 Ensure all accounts exist within nominal ledger before completing this page – You can always save and come back after creating any missing accounts – If in doubt consult your accountant or Prelude Distributor.
Click OK to save the record or Cancel to abandon.