Purpose: To monitor and manage emails that have been sent via the background mail queue service. https://help.prelude.software/knowledge-base/parameters-general/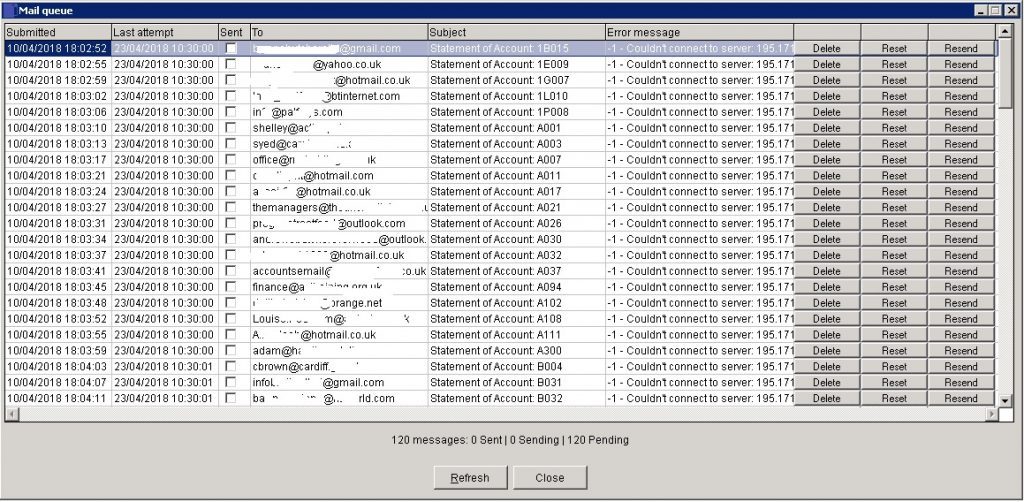 An overview of emails ready to send to enable checking – old view to show example of data shown
Menu > Status > Mail queue
Messages that are not Sent [checkbox ticked] are either Sending (in progress) or Pending (new ones added to the queue but not yet sent or sending).
New View to show changes to clarify statistics. New buttons allow you to select an email and send or refresh form.
[Delete] will delete the individual email from the queue
[Reset] will refresh the individual email with the SMTP server settings from parameters
Use this if the SMTP server settings have been changed, e.g. to fix an error
[Resend] will add a new email to the queue as a duplicate of the selected email
The Mail Queue is a scheduled background process, so it might be running when you want to close the program. If it is, the message 'Cannot exit at the moment as MailQ is still running' will be displayed. Simply wait a few minutes for it to finish and try again.
If you find that emails are not being received by their intended recipients or are actually stuck in the queue, check for clues in the 'Error message' column. This displays verbatim any messages that are returned by the SMTP server. It is beyond the scope of this documentation to explain all possible messages, so instead search the web for the text of the message or contact your IT support or Internet Service Provider (ISP) for help. Also consider any changes of which you are aware, e.g. changed password on your email account.