Purchase Ledger – Batch Post Invoices And Credit Notes
Any number of Invoices and Credit Notes may be posted at once.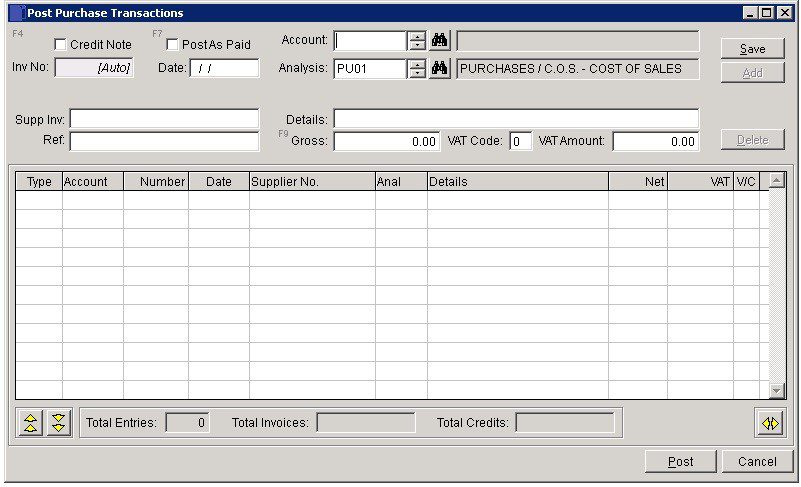 Credit Note: Check to post a credit note. Uncheck to post an invoice. Toggle between these using the F4 function key.
Post as Paid: Check to automatically post the receipt of payment for an invoice to the selected bank account. Uncheck to not post the receipt. Toggle between these using the F7 function key.
Date: Enter the posting date of the transaction. Right click to see the Date Entry menu.
Analysis: Select Nominal Account – default from supplier account.
References: 2 fields of 16 characters.
Gross: Enter Gross amount – F9 to enter Nett amount.
VAT Code: Enter the appropriate V.A.T. Code. This will pre-populate with the default customer V.A.T. code – amend VAT amount if necessary to agree to invoice.
Add: Adds completed line to grid – highlight grid line to delete. Use Up/Down arrows to move highlighted lines up or down grid.
Use Left/Right Arrows to hide or display detail fields in the Details Grid.
Post: Post the transactions in the details grid to the ledger.