Stock – Delete Price Matrix Information
Purpose:
Use this to tailor copied matrices to individual customer requirements by removing individual products or categories from specified customer price matrices.
Preparation:
Print a list of existing matrices – see Stock Control – Matrix Listing,
Processing:
On the main menu click Stock > Price Matrix > Delete Matrices.
Complete the form – see Stock Control – Matrix Deletion form – below
Click OK to update records and close form.
Filing:
File hard copy of matrix listing and highlight those being deleted by signing and dating the report. Also consider updating Customer's Account Notes on the system (Sales Ledger Maintenance) explaining why a price matrix for a particular product was deleted ( for future reference).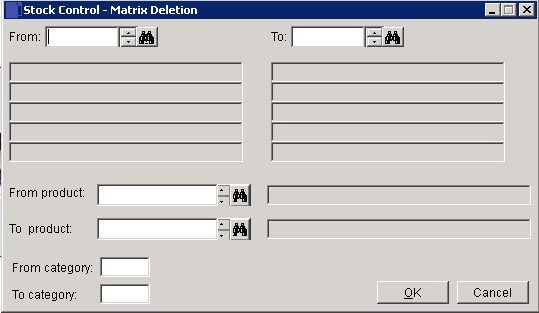 Select customer range or a single one. The select the product range or single product you wish to delete matrices for. Enter categories, if appropriate.
Click on OK to accept – this will delete those matrices chosen (message box to accept or close); or click on Cancel to abandon.