Cash Book – Match Sales And Purchase Ledger Transactions
What is Matching?
This is an operation that applies receipts or payments to sales and purchase ledger transactions. It allows the balances on individual accounts to show exactly which invoices are outstanding or partly paid.
Matching can most easily be explained by considering the following example:
When you post an invoice to a sales or purchase ledger account, the system will recognise and flag that invoice as being an 'Open' transaction (Unpaid). When enquiring on the ledger account note that the total of the Open items (the Balance column) make up the balance on the account at any one time. The screenshot below illustrates this. Matching marks the items paid as closed if fully paid or part paid and as part of the month end process the matched items are transferred to history.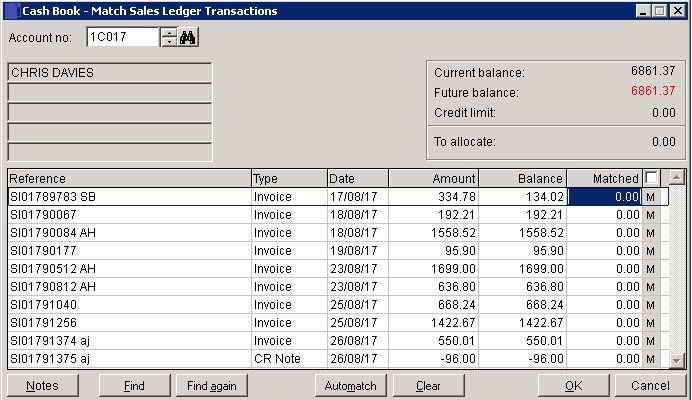 To Allocate: Total of all line values in the Matched column – this must be zero before the form can be closed.
If an item is part paid enter the amount in the Matched column.
Find: Click to open form – Enter a string from a reference to find a particular invoice and Click OK. The program will search for the entered text string in the Reference field of a transaction. '>' to the left of the line indicates a matching record.
Find Again: Search for the next record matching the criterion entered.
Automatch: Matches exact amounts received against sequential invoices starting with the oldest invoice. Will not allow part-settlement.
Clear: Clears all matching entries made on this page – allows you to start again.
Post Unallocated: Post entire amount as unallocated. Warning message box appears – click Yes to action, No to return to page.
Notes: Open Notes form and enter text as required. Notes are stored as a permanent record and are specific to a Ledger account or Product or Service. They can be read and updated at any time by any user with access to the company. Entries should ideally show a date and the name or initials of the author.
Entries will make a NOTES flag visible whenever the Ledger Account/Product is selected.
OK: Clicking closes allocation page, updates records, display transaction number on form. Click Cancel to close without updating.