Cash Book – Transfers Between Bank Accounts
Purpose:
Whenever you need to reflect the transfer of money from one bank account to another – for example transferring between a current account and a deposit account or settling a credit card balance.
Preparation:
Determine the account codes for each of the bank accounts and the amount being transferred.
If the bank accounts are different currencies, determine the exchange rate that will be used.
Processing:
On the main menu click Daybooks > Cash Book > Bank Transfer
Process payment – see below
Click OK to update.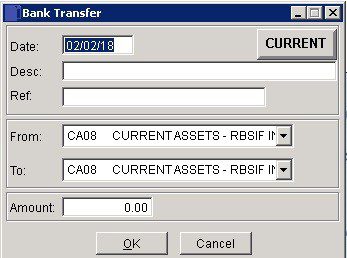 Date: Either: manual entry formatted as DD/MM/YY. Type over the parts of the date you wish to change – the system will skip over the "/" part itself. If the date you enter is invalid; the cursor will return to the start of the date and await a valid entry, or; click on the field to highlight data – white on a blue background – then right click to open the Calendar Menu – see Dates and Calendar.
Desc & Ref: Description and reference for transaction to be displayed on Cash Book listing.
From: Paying (Transferring out) Bank account To: Receiving Bank account.
When Foreign Currency is active – a further two fields are available – for the currency value and the exchange rate – see below.
Click OK to make transfer posting to Cash Books and Ledgers or Cancel to abandon.
Foreign Currency: