Status Menu – At-A-Glance
Purpose:
Use this to display an up-to-date view of your short term cash requirements – often called Working Capital. This will reflect the most recently posted transactions.
Processing:
Either: On the main menu click Status > At-a-Glance, or;
Click At-a-Glance Control Button – see Control Buttons.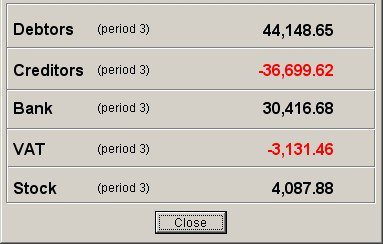 In Prelude Desktop point to Debtors, Creditors, Bank and V.A.T. figures. Stock is displayed in premium editions only and only if the Stock on the Balance Sheet parameter is activated and the related control accounts created- see Stock Control – Options Page.
Mouse pointer will change to a black block arrow.
Click Black Block Arrow to display the account transactions & reports. See:
Debtors At-a-Glance Form – Lists Aged Debtors Report.
Creditors At-a-Glance Form – Lists Aged Creditors Report.
Bank At-a-Glance Form – Lists Bank Listing – Current Period.
VAT At-a-Glance Form – Details Current Liability & VAT Form.
Stock Control – Stock Valuation Form – Lists Current Stock with Values.
Click buttons to print or display listings & reports.
Click Close to close listing form and return to At-a-Glance Form.
Click Close.
If you have multiple Bank Accounts configured in your Prelude Desktop product when drilling down into the "Banks" Transactions the system you will first be prompted to select a Bank Account. Select a Bank Account from the drop down list and click OK. Otherwise click Cancel to return to At-a-Glance Form.

If you select 'Allow future postings' in View > Parameters > General and post future postings you will be able to view these as well.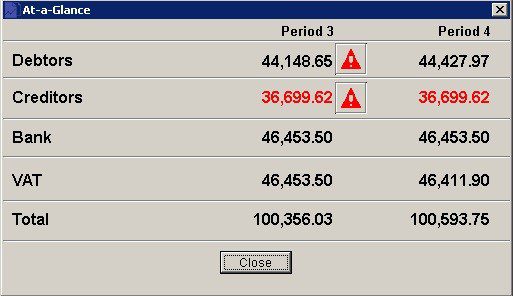 Note: The RED pyramid shape indicates an imbalance that requires investigation and correction.