Purchase Ledger – Register Invoices And Credits Report
Purpose:
To run at least weekly to help ensure all supplier Invoices are posted onto the ledgers as soon as possible after receipt.
Processing:
Either: On the main menu click Ledgers > Purchase Ledger > Invoice Register > Listing or; click Report Control button – Purchase – click Register Listing button to open form.
Select printer – see Printing Reports.
Populate form as required – see Purchase Ledger Register Listing form below.
Click OK to print/display/export to selected file type.
Close form.
Balancing/Reconciliation:
Copy supplier documents (if required) & distribute to relevant managers to authorise and return.
Print/display a list of Items periodically to enable you to chase those outstanding
Filing:
Note the PI number on the invoice and file in this order.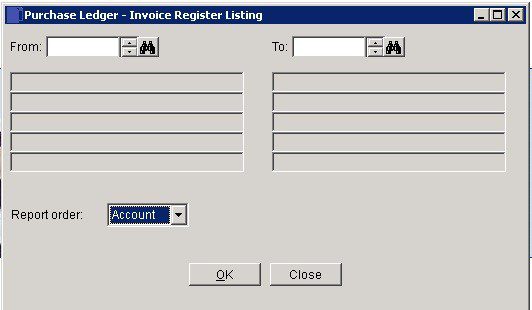 Select a range of suppliers to report on.
Choose Report Order – Date or Account Number.
Click on OK to print or export report or Close to abandon.