File Menu – Reorganise Database
Purpose: Use periodically to free disk space, optimise the indexing system and maintain the integrity of the data. This will reorganise the data of the company you are currently in. See also Reorganise All Databases – Company 00.
Preparation: Ensure that there are no other users on the system.
Ensure you have an up-to-date backup of the company data – see Back Up & Restore Company Data.
Processing:
On the main menu click File > Reorganise Databases.
Message box displays:
Click Yes to continue or No to close form.
Message Box – Reorganising Please Wait.
Message Box – Reorganise Complete – click OK.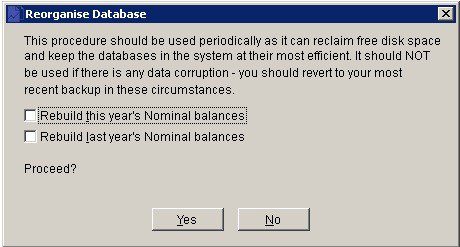 On large databases, full Reorganise can take some time to complete, with most of this time typically taken in rebuilding this year's and last year's Nominal balances.
Therefore we have separated these two routines as options, which can be run when required as is the case here. If you have a TB imbalance run Reorganise this year's Nominal balances and you should find that the TB balances.
Note that Reorganise will always perform housekeeping tasks, e.g. purging deleted/temporary records and refreshing indexes, and can run the Nominal rebuilds as and when required, e.g. to fix TB imbalances.
Note that you probably only need to check one box – last year's Nominal balances are the comparative figures stored for the management reports.